Volunteers urge Co-op shoppers to support Citizens Advice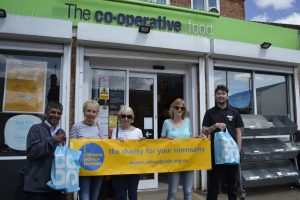 Volunteers from Leighton's Citizens Advice service visited their local Co-op store in Heath & Reach last week to urge customers to support the charity every time they shop.
Citizens Advice Leighton-Linslade is one of three local charities currently being supported by the Co-op Local Community Fund.
Over a period of six months, each time Co-op members buy Co-op branded products and services, 1% of their spend goes to the Local Community Fund which is then shared between the three local charities. The charities also benefit from the sale of carrier bags in local Co-op stores.
Maggie Davidson, who has been a volunteer with Citizens Advice in Leighton for six years, said: "We're delighted to have been nominated as one of the charities which will benefit from the Co-op Local Community Fund. Many people don't realise that every Citizens Advice branch is an independent charity, and that we rely entirely on grants, donations and fundraising to run our advice service. Last year we helped more than 3,500 people from Leighton-Linslade and the surrounding area with a huge range of issues and we want to continue to provide this vital service for the local community. All money raised through the Co-op Local Community Fund will go towards our Digital Skills Plus project, which provides free training in a range of digital skills for anyone who needs support to access key services online. Please make your shopping count by supporting us!"
Co-op members can choose to support Citizens Advice Leighton-Linslade by logging on to the Co-op's membership website at www.coop.co.uk/membership.